SumZero Top 25 US Colleges by Alumni Investment Performance
By: SumZero Staff | Published: January 14, 2016 | Be the First to Comment
At SumZero, we recently updated our analysis of over 8,500 individual stock recommendations that were posted on our research platform starting in 2009. These recommendations were initiated by members of our Buyside community, an authenticated group of roughly 12,000 analysts/PMs working at over 4,000 global hedge funds, mutual funds, and private equity funds. Each long or short recommendation is submitted along with a full thesis (avg. of 2,000+ words), and includes a target price, expected time horizon, financial models, and discussion of catalysts/risks/etc. To establish accountability, we track the daily performance of all recommendations made by our members.
We regularly analyze this dataset to identify talented analysts in the fund industry and to spot hidden trends in the market, but, for a bit of fun, we decided to look at how each of these recommendations stand-up on a College-by-College performance basis. We know which funds our members work for, but we also know where they went to school. The results are in.
Alums from Boston College have unexpectedly topped this year's list. The private Massachusetts-based Jesuit college narrowly beat out some of its more expected competition from the Ivy League, as well as other, top-tier national universities, through the aggregate performance of their alum's stock-picking on the SumZero platform.
What is unique about this data (versus US News' rankings, for example) is that the SumZero ranking is based on actual job performance data in a real-world environment, and it purposefully ignores more subjective/unrelated criteria that have become the standard in the college rankings industry.
The dataset is limited by the relatively niche nature of our community (and the fact that the fund industry tends to only hire from a small-ish subset of top schools), but our criteria/methodology is extremely simple, and it is outcome-based. In this respect, we feel that this provides an interesting look into how well professional investors can/do perform once they leave the classroom.
To improve our confidence in the data, we created methodology which required that we look at schools which had at least 20 alums on our platform. Those with fewer were deliberately omitted. We then aggregated the average performance of each individual alum and took the median alum's performance from each school. Lastly, each school's median alum performance was tallied.
The most appealing aspect of this ranking is the inherently objective nature of it: investor performance. It is tempting to rationalize that certain schools on this list are better than others on an academic or reputational basis, and you can have that discussion if you like, but this process is completely data driven. It is what it is, in other words, and we present it without any type of opinion/vested interest stamped on top of it.
---
The SumZero Top 25 Colleges by Alumni Investment Performance
:
1. Boston College
2. Dartmouth College
3. University of California, Los Angeles
4. University of Michigan, Ann Arbor
5. Georgetown University
6. Cornell University
7. University of Texas at Austin
8. Harvard University
9. Tufts University
10. Yale University
11. Northwestern University
12. University of Virginia
13. Pennsylvania State University
14. University of Notre Dame
15. Duke University
16. University of Pennsylvania
17. Princeton University
18. Massachusetts Institute of Technology
19. Columbia University
20. University of California, Berkeley
21. New York University
22. Stanford University
23. Johns Hopkins University
24. Brown University
25. Vanderbilt University
---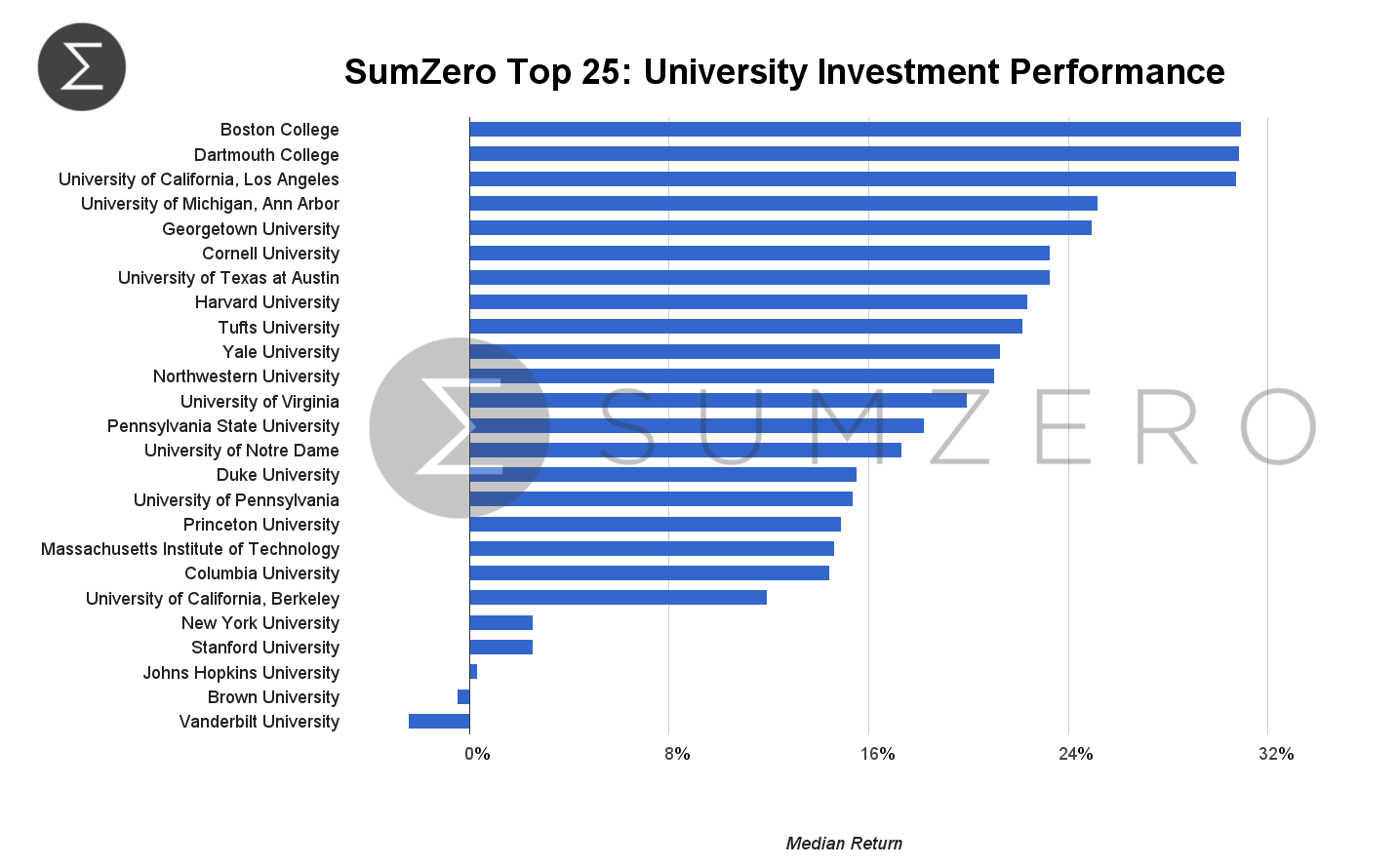 ---
SumZero is an online community of professional investors. For those who do not work on the buyside, you can get limited access to SumZero investment ideas, interviews, and more, when you join SumZero Basic here.
Investment professionals working at funds can use their credentials to become full Buyside members. Join SumZero Buyside, a research platform containing thousands of research pieces from other professional investors around the world, via the link below.
Buyside Fund Professionals Should Join SumZero Buyside Here