Great investors not only have to be right, they also have to be right at the right time. This is especially true in short selling where borrow costs eat away at returns the longer a position is held.
The world's top investors gather on SumZero to share research, and we've gathered a few of their best short ideas that the market moved for immediately.
Fitbit Inc. (FIT:US) posted by Paul Kim
Elevator Pitch: Given the intense battle for "wrist space," FIT's fitness trackers will experience faster-than-expected "commoditization." Ultimately, the Apple Watch Sport will dominate the category.
Kim's idea generated high ratings and extensive discussion from the SumZero community. Kim cited the plethora of competitors and Fitbit's relatively small size as omens of decline for the health tech company.
"FIT's R&D spend was $114MM compared to AAPL's spend of $8.1B (LTM Sep-15). FIT's Marketing spend was $249MM compared to AAPL's advertising spend of $1.8B (LTM Sep-15). Ultimate success in the category will depend on FIT's ability to introduce new products and successfully market them. Competition based on R&D and marketing spend with the likes of Apple, Samsung and a host of others with deep pockets is a losing proposition for FIT"
Most damning of all, FIT was trading at prices that assumed none of the above difficulties.
At $33.37/ share, FIT trades at 14.2x and 10.6x consensus 2016 and 2017 earnings estimates, respectively. Its Consumer technology peer group trades at 6-9x 2016 EBITDA. Current valuation has priced in significant wearable device optimism, while leaving much room for disappointment
Finally, the main risks with the FIT short were low probability.
"1) If the company can roll out new innovative products and maintain an elevated price point, that would be a significant risk to the short thesis. With that said, the intensity of the competition in the space, in my opinion, will ultimately lead to market players undercutting each other on price.
2) M&A take-out risk. This is likely the one I am most concerned about. Misfit, a competitor, was acquired by Fossil for $260MM. The mitigating factor is the current price tag for the company - $7.3B (current EV). I believe any potential suitor will opt to just develop their own product in-house as this would be the less costly path to market."
Less than two weeks after Kim posted his idea to SumZero, FIT dropped over 18%. When the dust settled two months later, about $1.5 billion in FIT market cap had been destroyed and Kim closed his position for a 55% return (100% annualized).

Demandware Inc. (DWRE:US) posted by David Trainer
Elevator Pitch: ​Demandware IPO'd in 2012 based on plans to create shareholder value by providing e-commerce platforms for retailers and brands worldwide. So far, the plan is not working as the company's profits have declined. Paradoxically, the stock price had climbed over 140% since its IPO.
David Trainer noticed an interesting trend with Demandware, a producer of cloud-based tools to help retailers develop and manage digital commerce sites: revenue and stock price were increasing while profit was only decreasing deeper and deeper into negative territory. In other words, growth only came through spending more on customer acquisition.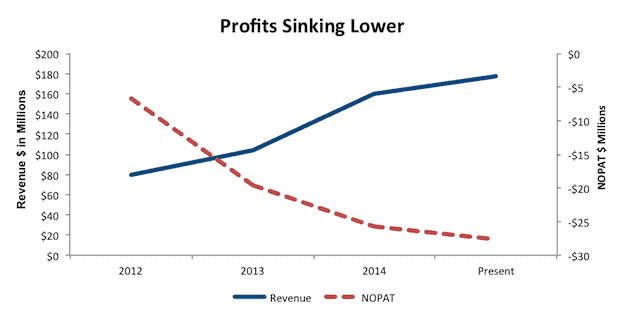 Trainer also cited intense competition within the crowded space coming from the largest players in cloud technology, including IBM, Oracle, HP, and Dell. Most concerning of all was the fact that by measure of return on invested capital (ROIC), Demandware came in dead last compared to its competitors, a double whammy which also greatly reduced the chance that Demandware would be acquired by companies that already have a competing product.
A crazy valuation, limited short interest, and a last-place business all came to fruition less than a week after Trainer posted his research to SumZero. Demandware reported weak guidance on 2015 subscription revenue, earning Trainer (and anyone following his ideas) an 18% return in days. The stock has continued to drop since then, and Trainer's short remains open after a 28% return to date.

Mattress Firm Holdings (MFRM:US) posted by Andrew Mannik
Elevator Pitch: Bulls are ignoring the rapid emergence of a group of disruptive competitors and overstating the company's growth opportunity
MFRM is the largest specialty mattress retailer in the U.S., operating under Mattress Firm, Sleepys, and other brands. However, Andrew Mannik sized up the company as a perfect short due to its rich valuation, over-hyped opportunity for growth, and alarming vulnerability to a new breed of competitors in the mattress industry, which is ripe for disruption.
"Basically, the traditional model of mattress retailing is as follows:
Consumer decides his mattress is getting a bit worn, could use replacing
Consumer visits one or more specialty mattress retailers
Consumer is bewildered by choice – despite most mattresses appearing similar, there are hundreds of makes and models, all of which are specific to the retail chain they are being sold in, limiting comparison shopping
In an attempt to narrow down the choices, consumer "tests" mattresses by lying on them for 30 seconds each
Consumer gets a high-pressure sales pitch from a floor salesperson highlighting the newest technology with unquantifiable benefits
Consumer walks out $2,000 poorer – still doesn't quite know what he bought or whether it will be comfortable to sleep in overnight
Mattress arrives a few days later"

According to Mannik, the new model is superior.
"Consumer decides her mattress is getting a bit worn, could use replacing
Consumer goes online to read reviews and mattress comparisons, looks for mattresses that fit her sleep style (back, side, stomach)
Consumer notices high reviews for a brand that she has seen advertised recently but has never tried (Casper)
Consumer visits casper.com to get more information, finds out there is a 100% no-hassle return policy for 100 nights
Consumer orders the mattress for $850
Consumer receives the mattress the next day
Basically, in addition to offering a comparable product for a much cheaper price, the DTC model does away with many of the pain points associated with the traditional model such as a high-pressure sales pitch and product feature confusion. They also sidestep many of the hesitations that consumers might have with ordering online by opening up showrooms to test the product (only available in a few major cities currently), as well as promising no-hassle, no questions asked returns up to 100 days after purchasing."

Not only are these new competitors disrupting the mattress industry, MFRM management showed a serious lack of concern.
"If we look at MFRM's cost structure, we notice that the product mark-up is massive (~160%), and that this mark-up is primarily going towards paying for salespeople (~15% of sales) and occupancy (~15% of sales), both costs that do not exist in a DTC model. When I spoke with MFRM IR, they were dismissive of the DTC model in part because they had heard they were spending ~25% of revenues on sales & marketing versus the ~8-9% that MFRM spends – but this is exactly the point! The very nature of their model gives DTC manufacturers an extra 30% of margin to work with – given that context, only overspending MFRM by 16-17% on marketing seems stingy! In addition to spending more on marketing, Casper and other DTC manufacturers also use their structural cost advantage to operate at a price point below comparable products sold by MFRM, further enhancing the value proposition to the consumer."
It didn't take long for Mannik to be right about Mattress Firm Holdings. Only days after posting his idea to SumZero the stock plummeted 24% on missed earnings. Soon after MFRM announced its own line of "DTC" mattresses which only served to acknowledge and publicize the critical threat of the DTC mattress industry. Mannik closed his position in early 2016 for a realized return of 33.4%.